AirVote helped me improve my quality control process

My customers told me that AirVote gives them the feeling that I care about them

AirVote reports are very clear and easy to read

Thanks to AirVote, I now get many more positive reviews in Facebook and Google

I feel AirVote is fair that it does not charge me when I have no votes

How it works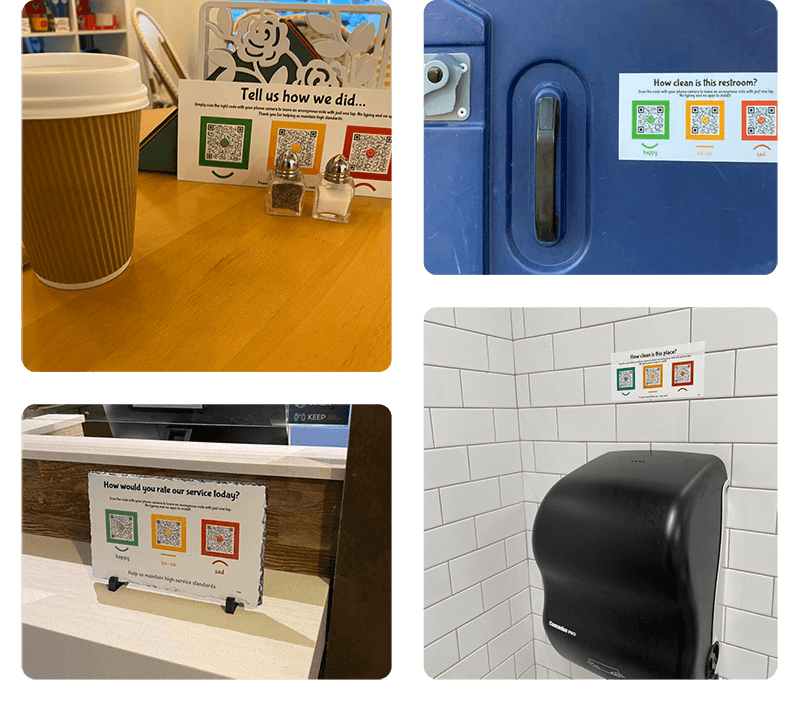 QR SMILEYS
A question with QR code is displayed as a sticker, handout card, poster, or stand
ONE-TAP VOTING
Your customer scans the QR code and votes with one click. Anonymous. No apps needed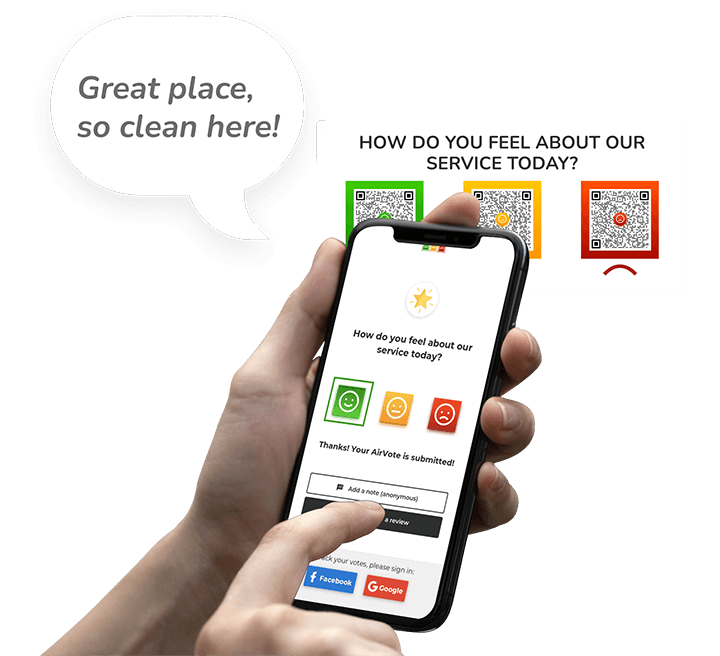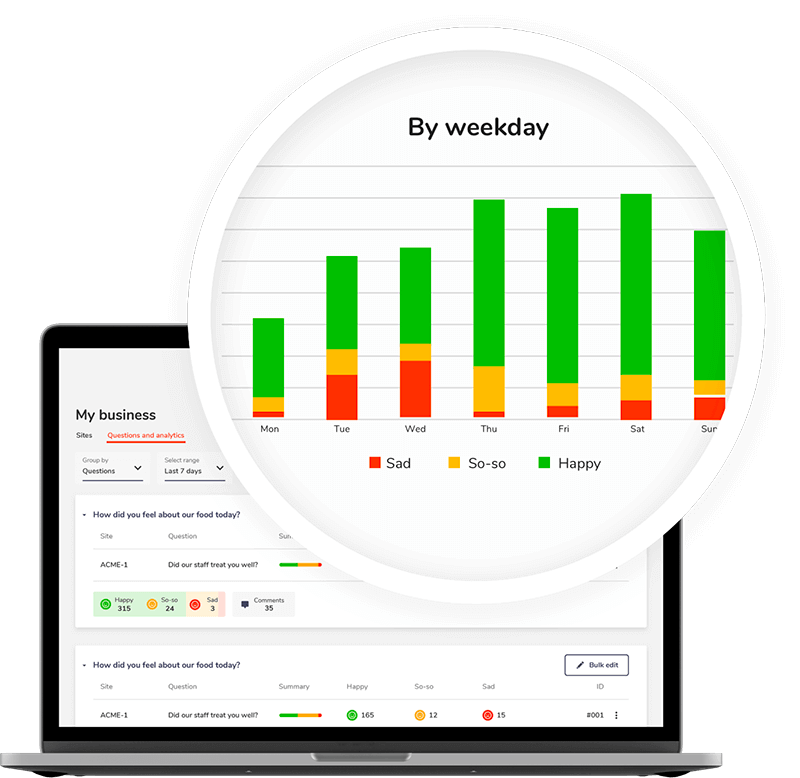 ANALYTICS
You get instant
feedback
Click to explore the AirVote dashboard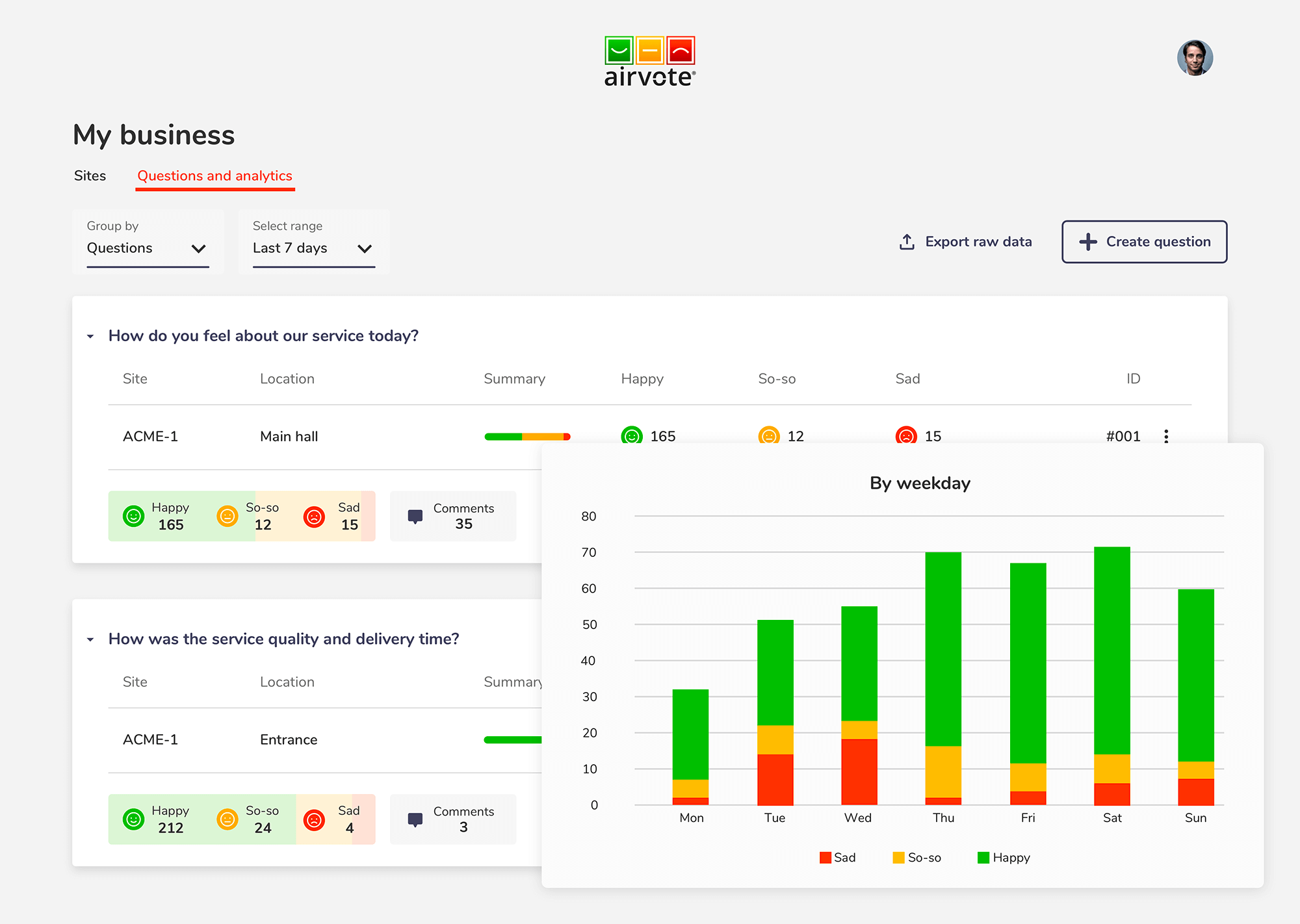 SOCIAL MEDIA
Happy customers are directed to social media to write a review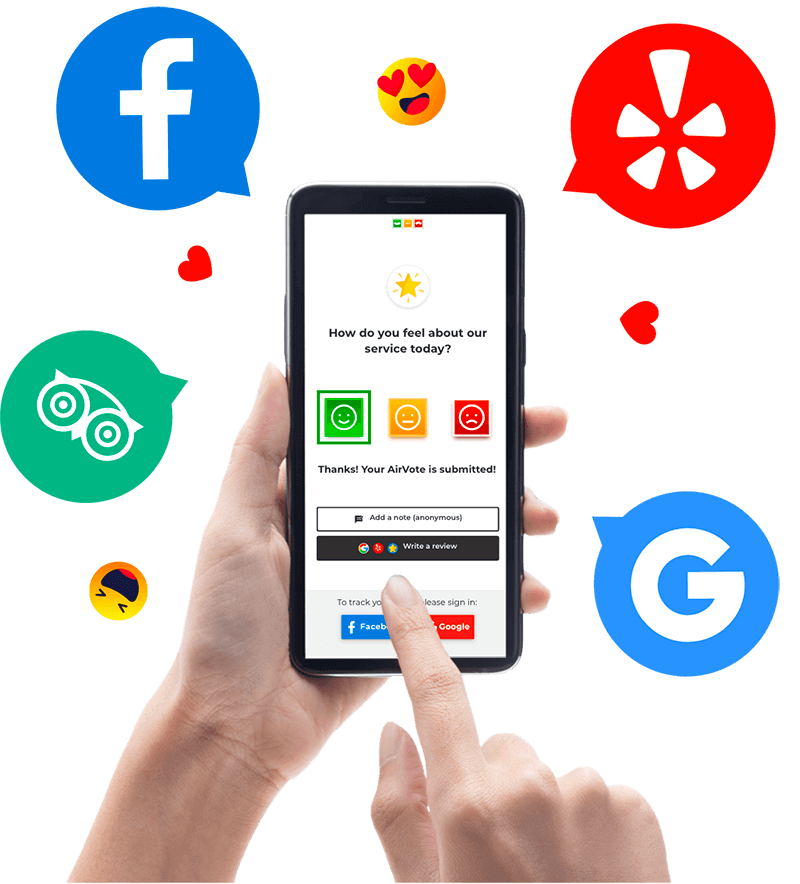 Watch the video to discover more!
AirVote QR-Smileys für Ihr Unternehmen bekommen
Wählen Sie die Fragen aus, die Sie Ihre Kunden stellen möchten
Sie können diese später jederzeit ändern
Just register my account. I will add questions later
Benefits of Using AirVote
Real-time customer feedback
Customer opinions are shared instantly to the owner's dashboard
One-tap interaction
All the customer needs to do is open their phone camera
Reviews
After voting, a client can leave an anonymous comment or write a social media review
Easy to start and use analytics dashboard
Register your business and start analyzing your customers in 10 minutes or less
Deep drill-down into feedback data
Data you received can be filtered and manipulated in a lots of ways for your perfect understanding
Free plans for starters
If you receive less than 50 votes per month—you don't pay a cent
Frequently asked questions
I am already on Yelp, Google, and TripAdvisor. Why do I need AirVote?
Most of the popular review sites create an external image of a business in the social world. AirVote is an internal tool. Your customers will use it to tell you in real-time the truth about your services. This helps you fix small issues before they become big and before they show up in Facebook/Google/Yelp as a negative review.
Will my customers really vote? My FB/Google/Yelp reviews are very few.
Popular review sites require going to the site, sign-in, and type comments. Reviews and comments are usually visible to everyone including the reviewer's circle of friends. That's why statistically only 2 percent of customers submit external reviews. Usually when they are either very happy or very frustrated. In comparison, with the anonymous, one-tap QR smiley scan your customers vote on-the-go and can be honest about their level of satisfaction. Our real life metrics are loud and clear that the customers do vote, and in large numbers – certainly large enough to catch a good or a bad trend.
Many people don't even know how to scan QR code or what QR code even is. Many don't have smartphones capable of scanning a QR code. Is AirVote a waste for them?
This is true – those customers will not be able to vote using AirVote. However:
-They will also be less likely to go to popular social review sites and hurt your brand by submitting a bad review. It is a more technically savvy audience who would do that – and they are most likely to know how to scan a QR code
-You do not need 100 people to vote and tell you that your restrooms need cleaning. If you are watching the dashboard daily, just a couple of votes are enough to show the problem or a trend