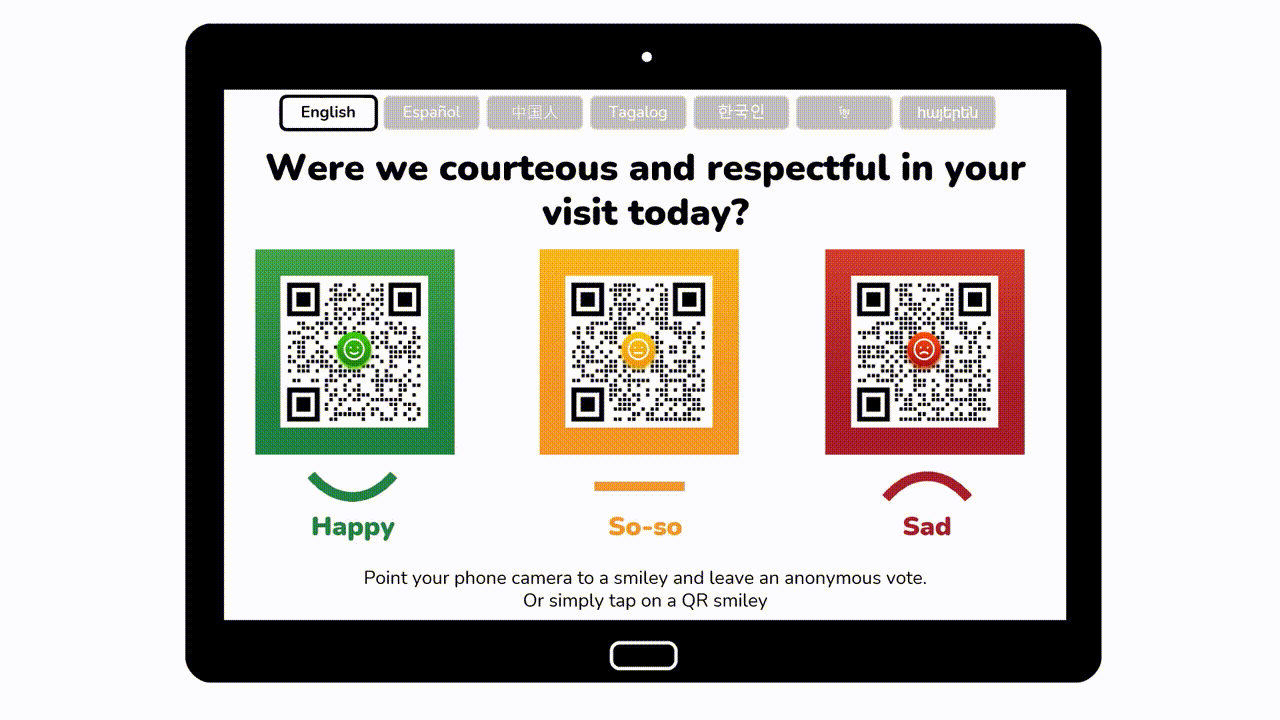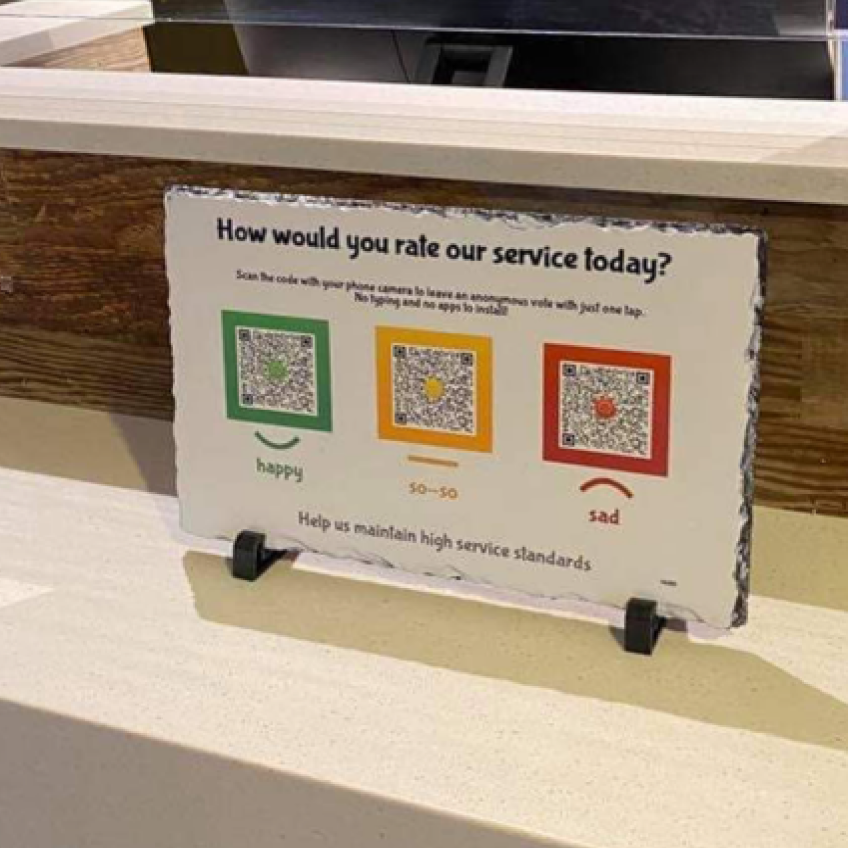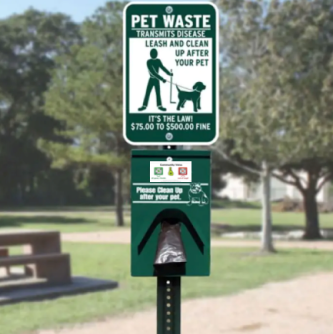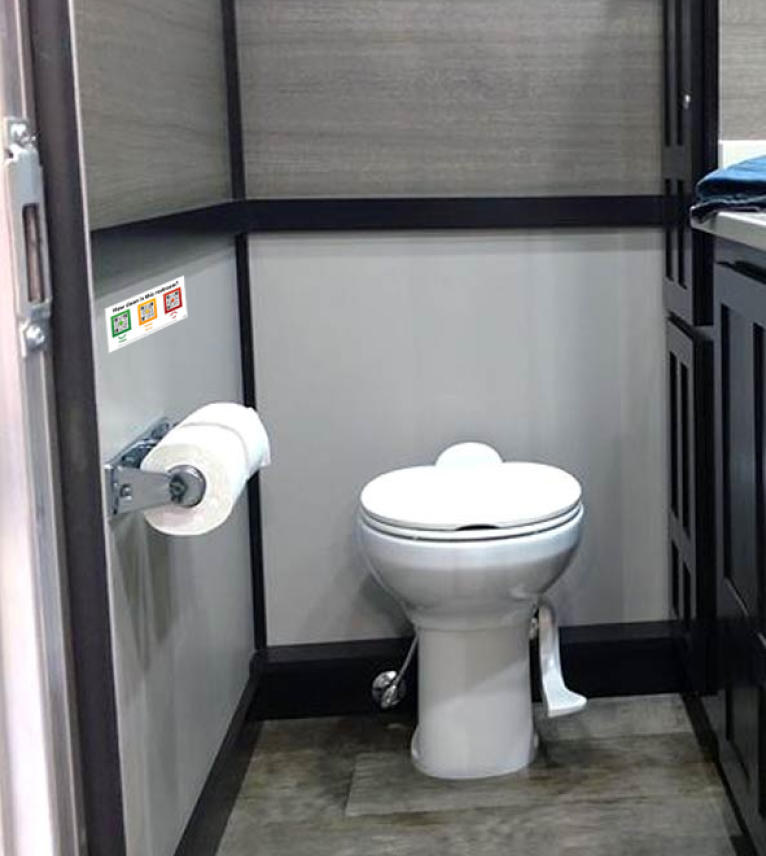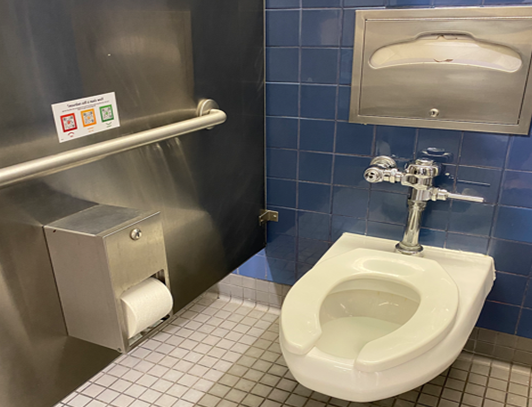 How it works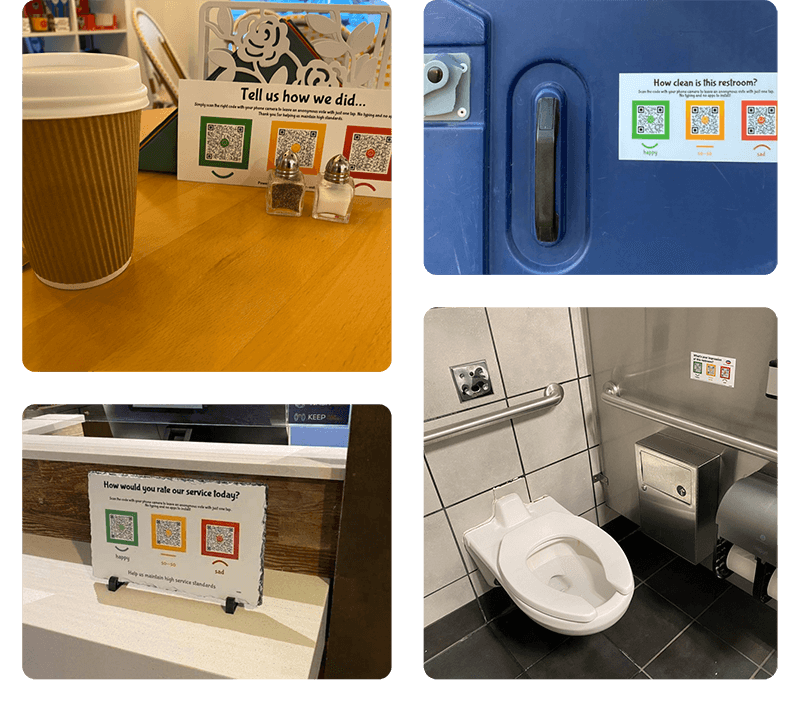 QR SMILEYS
A question with QR code is displayed as a sticker, handout card, poster, or stand
ONE-TAP VOTING
Your customer scans the QR code and votes with one click. Anonymous. No apps needed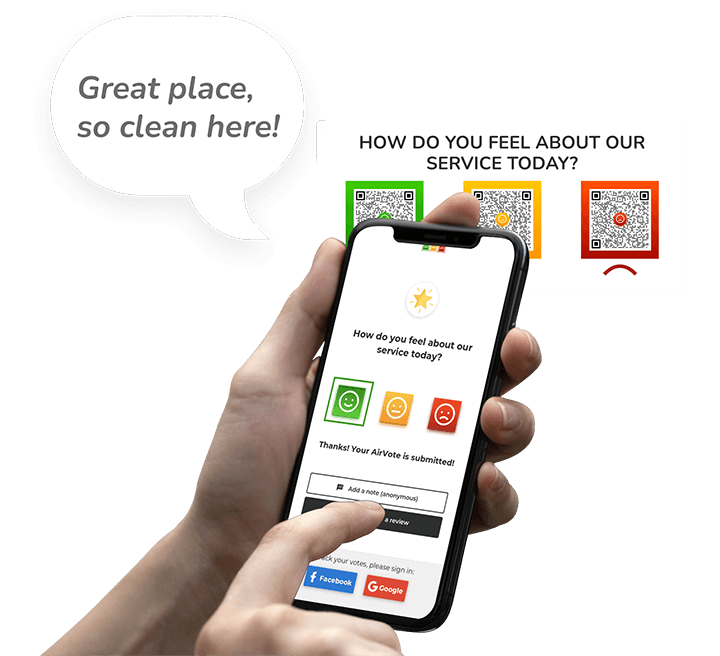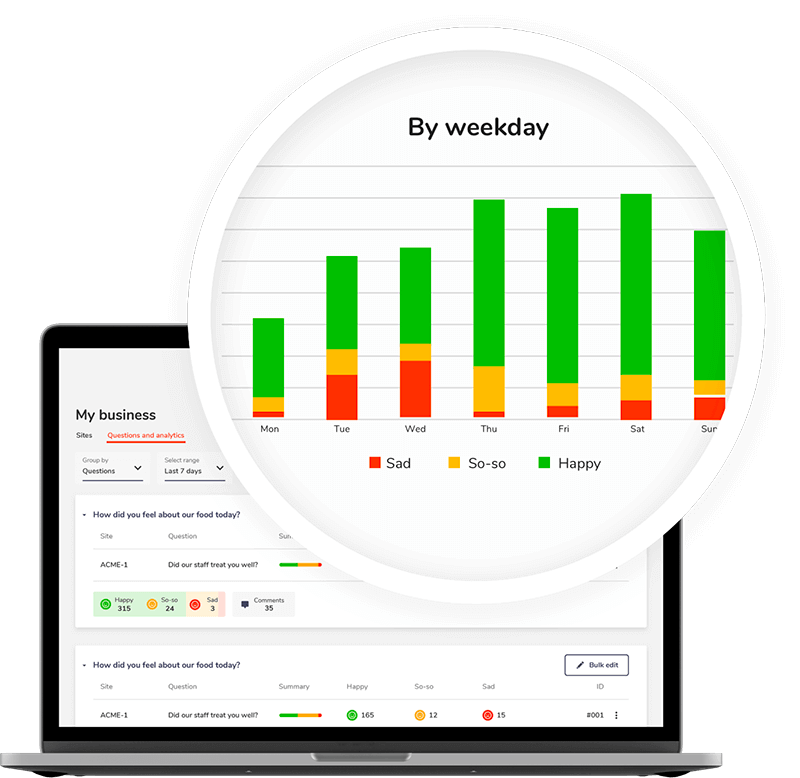 ANALYTICS
You get instant
feedback
Click to explore the AirVote dashboard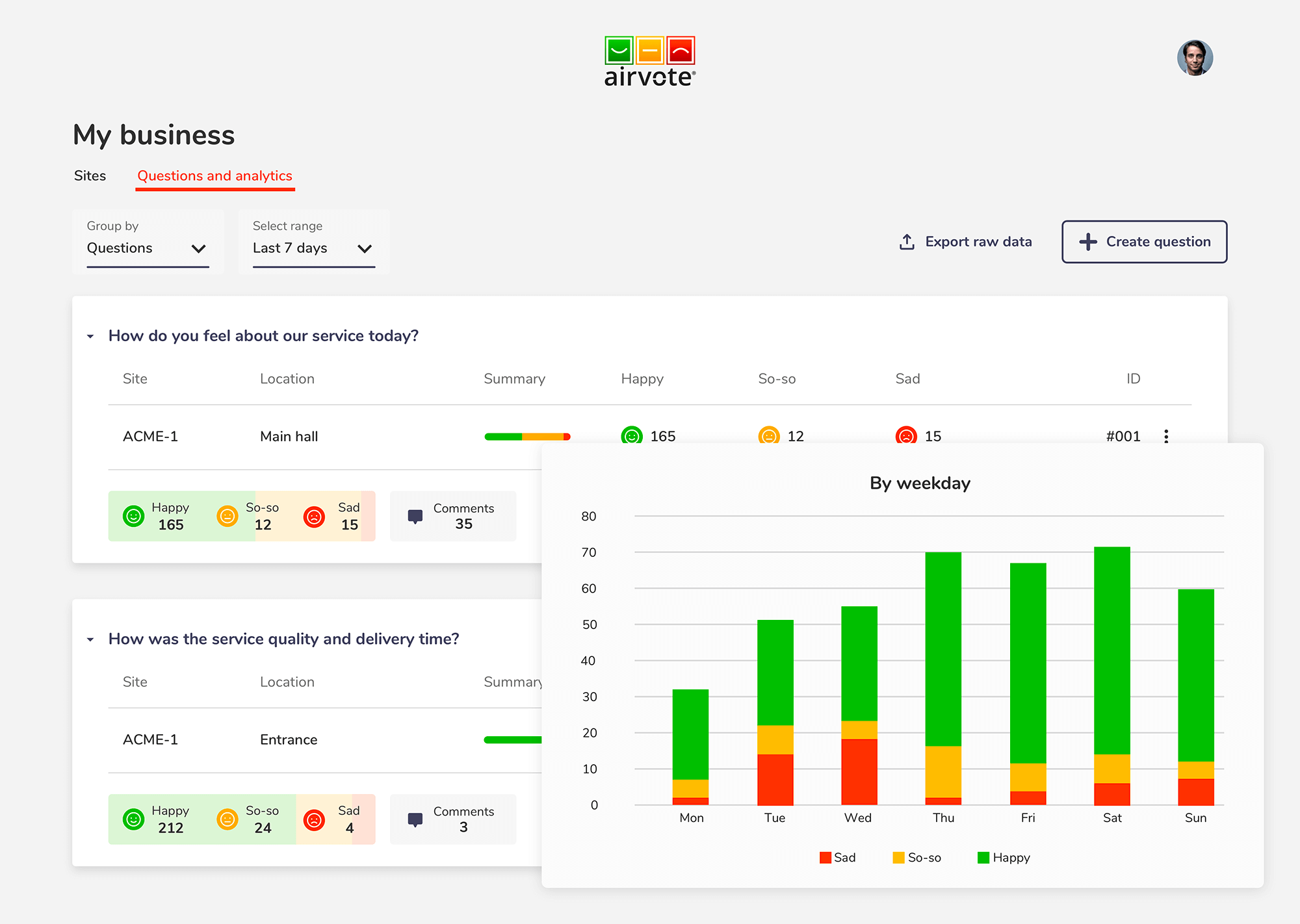 SOCIAL MEDIA
Happy customers are directed to social media to write a review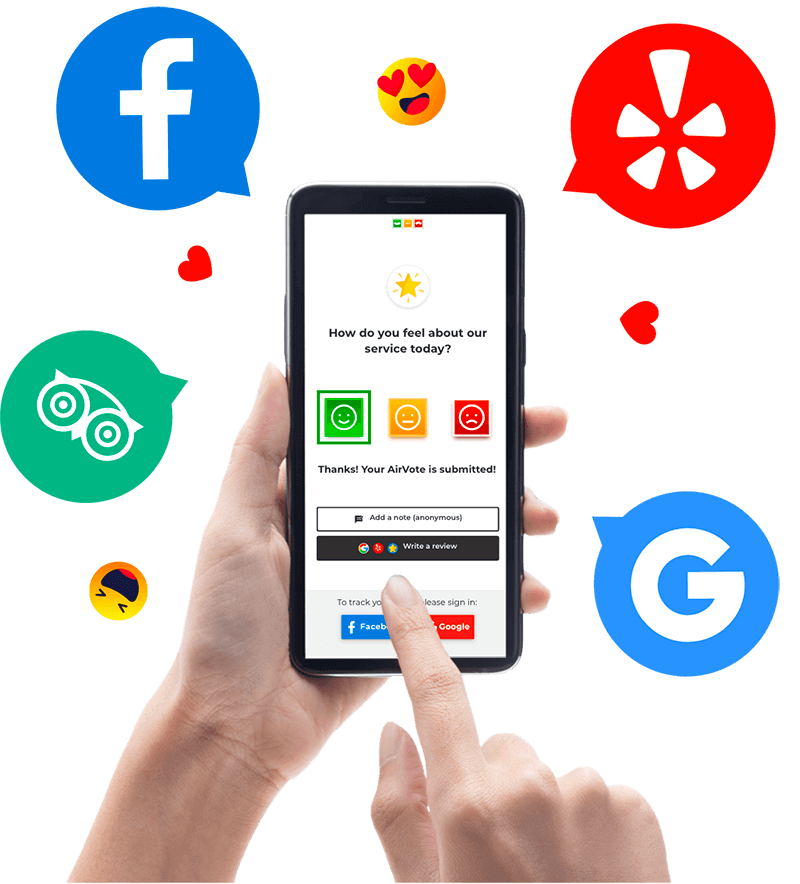 Watch the video to discover more!
Get AirVote QR smileys for your business
Select questions you would like to ask your customers
You can always change those later
Just register my account. I will add questions later
AirVote map
This interactive map shows where the customer votes come from worldwide. The responses are combined for all businesses and industries in that region
AirVote: what's in it for me?
Measure performance of your staff and your business
Easy-to-read reports show service trends by time or location
Involve customers in your business
Anonymous feedback tells you things you may never know about
Get more positive reviews in social
Send happy customers directly to your review pages in social channels
Optimize maintenance schedules
If you get an alert, you can send your maintenance over
Increase your profits
Customer feedback from Airvote can show that your client needs more services than they originally ordered
Be wherever your customer is
AirVote text and email alerts give you 24/7 pulse of your business
Frequently asked questions
Three reasons:
First, the restroom stall is a place where customers have a minute of quiet time, often with a smartphone in their hands – it's the reality of today. This explains the high volume of responses from the restrooms.
Second, the restroom is one place where a business has little control of the moment when it gets messy or runs out of supplies.
Lastly, various research is loud and clear that over 90% of customers will judge a business and service quality by the conditions of the restroom.
AirVote questions are perfect to be placed in every restroom stall, on the inside of the door facing a customer when they sit down. Low setup costs make it a simple and practical solution.
I am a small business and do not have high customer traffic. What do I get from AirVote?
Thee are two ways AirVote can bring value to businesses with light customer traffic:
Real-time alerts on negative votes along with optional comments. On average 10% of voting customers submit an optional anonymous comment. That single vote can immediately alert the owner of a problem area before other customers see it.
AirSocial – offering happy customer additional link to the social channel of your choice. This helps increase the number of your positive reviews and can directly impact your bottom line.
I am already on Yelp, Google, and TripAdvisor. Why do I need AirVote?
Most of the popular review sites create an external image of a business in the social world. AirVote is an internal tool. Your customers will use it to tell you in real-time the truth about your services. This helps you fix small issues before they become big and before they show up in Facebook/Google/Yelp as a negative review.